A frequent question from school district administrators is, "When should a student receive a 504 Plan rather than an IEP?"  That is a great question, and it can be confusing because the laws behind each plan are quite different, but they focus on the same goal- Helping students with disabilities succeed in the classroom.
You are probably familiar with the ins and outs of IEPs, but 504 plans remain a mystery for many folks. This is interesting because 504 plans are much less complicated to develop than an IEP (it doesn't even have to be written down- although that sounds like a recipe for miscommunication!)
The purpose of a 504 plan is to provide support and remove barriers so students can learn in the regular classroom setting.
Decision Guide
To provide guidance on whether to pursue an IEP or 504 plan (or neither), we have designed a decision-making guide to assist you.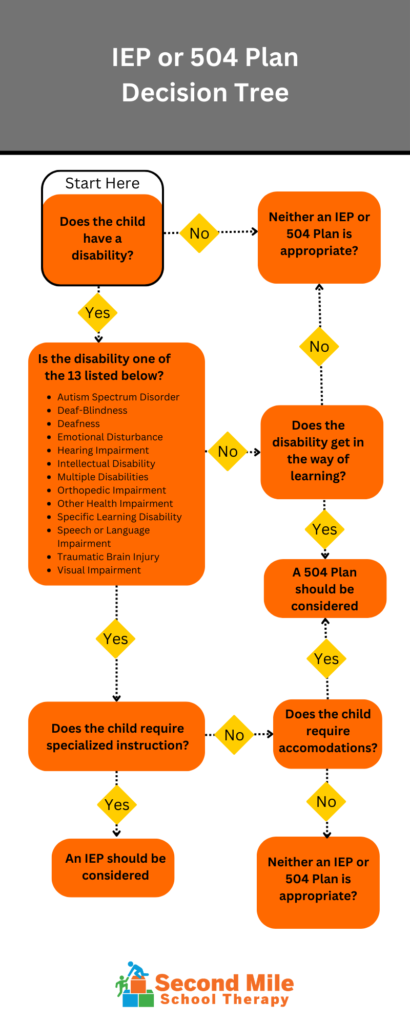 Examples of how 504 plans are implemented.
A student with dyslexia may be allowed to use text-to-speech technology and may get extended time for work that involves reading, spelling, and writing.
A student with ADHD may be provided with a quiet setting for tests and preferential seating in the classroom to help reduce distractions.
A student with autism who struggles with self-regulation may have a behavior intervention plan that all teachers follow.
A student with anxiety may be allowed to leave the classroom as needed for short breaks.
A student with sensory processing disorder may be allowed access to fidgets or time to engage in his/her sensory diet.
A student with Tourettes Syndrome may not be punished for verbal outbursts or ticks.
Frequently Asked Questions
Are related services provided with 504 plans?
A 504 plan usually does not include individualized instruction. However, nothing in the Rehabilitation Act prohibits related services. The Civil rights law behind 504 plans has few guidelines. This, in part, is probably why there is confusion surrounding 504 plans. In some cases, students may get related services through a 504 plan, like occupational therapy, physical therapy, or counseling services.
Who is eligible for a 504 plan?
To qualify for a 504 plan, a student needs to have "a physical or mental impairment that substantially limits one or more major life activities." Life activities can include everyday activities like walking and breathing. But they can also include learning, concentrating, thinking, and communicating.

https://www.understood.org/en/articles/504-plans-a-guide-for-teachers
How is a 504 plan different from an IEP?
An IEP is only for students with one of 13 designated disabilities. A 504 plan can be implemented for a person with any physical or mental impairment (disability) that substantially limits one or more major life activities." Life activities can include everyday activities like walking and breathing. But they can also include learning, concentrating, thinking, and communicating.
There are no required team members on a 504 plan
Schools aren't required to involve parents or caregivers when developing 504 plans. However, parents/guardians must be notified regarding evaluations and if the child is found to have a disability. [Excluding parents from their child's education is a recipe for major problems. Best practice would include parents in the creation of the plan.
IEPs are focused on Special Education. 504 plans do not involve special education services. (although related services may be included in the plan for some students).
There is no such thing as a standard 504 plan format or template (unlike an IEP). Consequently, it is up to each school district to create an acceptable format for each 504 plan